Lucas Clarkson spent five years on JET as an ALT at high schools and elementary schools and now teaches at a private school in Yokohama. He is currently a social studies instructor at the International Baccalaureate (IB) Middle Years Programme (MYP) at Chuo University Yokohama Yamate Girl's School. Lucas told us a little more about his transition from JET to another teaching position in Japan for this month's "Life After JET."

National AJET: Why did you decide to continue teaching in Japan after JET? Was that always your plan?
Lucas Clarkson: I figured that I had so much invested in this country in terms of time spent, friendships made, and language (presumably) acquired, that to leave after JET would be a mistake. I always knew that I wanted to teach in some capacity, and I was lucky enough to find the position I did, when I did.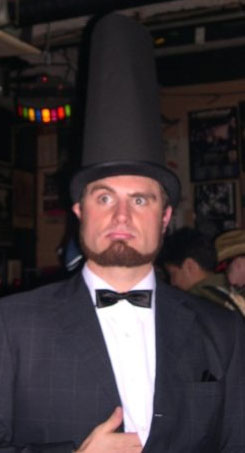 NAJET: Are there any resources you could recommend to someone looking for a teaching job in Japan?
Lucas: As far as resources go, there are the usual suspects: GaijinPot, Ohayo Sensei and Jobs in Japan. These are all helpful if you know exactly what you're looking for. If you're looking for International School positions there are a number of online headhunter-type sites where you pay a nominal fee to post your resume and other information online for prospective schools to see.
NAJET: Can you tell me a little bit about the logistics of staying on after JET – moving, getting a new visa, etc? Where there any difficulties that you didn't expect?
Lucas: No major difficulties at all really, as long as you have a legitimate employer willing to sponsor you. If you decide to take the independent route however, you're going to run into a host of difficulties. Just be sure to have (a) Japanese friend(s) on hand to help you with visa paperwork and the like.
NAJET: How does your current job compare to your experience on JET?
Lucas: My position now is much more demanding in terms of planning and preparation than my positions with JET were (even when I taught elementary school). On the other hand, I'm able to build stronger bonds with my students because we're exploring issues on a much deeper level than I ever was able to do teaching English communication.
The freedom is still there, but on a much wider scale. I can plan field trips now which I could only have dreamt of doing while on JET.
Training opportunities all depend on your school. I was lucky enough to go to Hong Kong for an MYP conference my first year at my school.
NAJET: Did you feel well-prepared after JET for your job now?
Lucas: Actually, I think JET was a good stepping stone for what I'm doing now. All those lonely hours spent thinking up new ideas, creating interesting lessons and worksheets, finding my way around Windows, etc. were quite useful for what I'm doing now. I was also able to really hone my presentation skills along with acquiring confidence in the classroom.
NAJET: Any last advice for JETs who are interested in pursuing a career in teaching in Japan?
Lucas: If you have a degree in Education already, you're going to find it much easier than if you don't. Likewise, a Master's Degree in any related field (TOEFL, TOESL Education, Communication, etc.) will make the the transition much smoother. Without either of these, you're going to be facing an increasingly competitive market without some key tools at your disposal.
If you're interested in making a career out of teaching English but worry that you don't have any certifications, it's not too late – many JET participans take advantage of their time on JET to get some. For links to more information about some of the teaching credentials and other resources mentioned in this article, see our new (and ever-growing) Life After JET Links page.
---