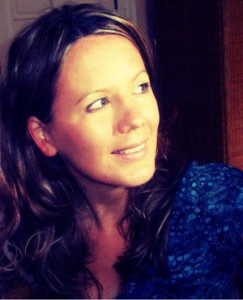 Beth Nicholls was a CIR in Yamagata from 1999-2000. Since then, she has been busy translating and traveling the world with UNICEF, as well as working at major sporting events.
Currently, Beth is undertaking a new endeavor, called Do What You Love, which includes an e-course starting on March 14 designed to help participants "[discover their] true passion, and [find] a way to make it a greater part of [their] everyday life." Read the interview and check out Beth's website to find out more about the course. If the course seems right for you, be sure to take advantage of the discount just for JETs — enter the discount code J1102 when you register at www.dowhatyouloveforlife.com/ecourse–spring2011/.
NAJET: Do you have a favorite story from your time on JET? (Anything that you still pull out at parties to this day?)
Beth: When I was on JET I had the good fortune to land my own TV show – 'Besu Nikoruzu, minna tomodachi' (possibly the cheesiest name for a show in cable television history).  I loved every minute of it but never suspected anyone actually watched it.  One day I went to visit the gorgeous temple Yamadera, and as I climbed the last of the 1000+ steps, windswept and puffed out, a monk came up to me and said 'Besu-san?  I love your show'?! I nearly fell off the side of the mountain!
NAJET: What kind of impact did your time as a CIR in Yamagata have on you? In terms of your future career, personal growth, or anything else.
Beth: My year in Yamagata was a formative one.  I lived with a wonderful couple who were jazz musicians, with a studio in the house and parties most weekends.  Everyone was so warm and welcoming, and I felt an incredible sense of possibility.  The experience gave me real confidence in my Japanese ability, and an understanding of the responsibility you have as an interpreter.  I had many wonderful experiences – interpreting for athletes at the World Ski Jumping Championships, hosting my own TV show (see above!), being Chief of Police for a day, interpreting for dignitaries like the Governor of Colorado and the Thai Ambassador to Japan.  I was frequently terrified but always gave it a go anyway, and as a result expanded my comfort zone massively.  I went on to get a Masters' degree in Japanese Interpreting and Translation, and although I don't use Japanese much in my current endeavours, it was a crucial element of my path to here.
NAJET: From the 'About Me' on your blog, it looks like you've had some amazing adventures so far. Can I hear a little more about one? Either one that stands out above the rest or you can choose at random (I'm voting for meeting the Prince of Bhutan, but I'm not picky). I'd like to hear how it come about, any highlights, and lasting impressions.
Beth: Every single adventure has come about as a result of seemingly random connections, and being a combination of curious and brave.  When I was writing my MA dissertation, which specialised in interpreting for elite athletes in a competitive sports environment, I requested an interview with one of Japan's most famous ever football players, as he had played for several teams overseas and worked both with and without an interpreter.  Somewhat bizarrely I ended up teaching him English and we became good friends, meeting up and travelling together in places like Ghana, South Africa, China and Bhutan.  When we were visiting Bhutan we were invited to a special dinner as guests of the Bhutanese FA, and our host was one of the Princes of Bhutan, who had studied at Oxford University.  We had a wonderful evening discussing football, fashion, food and relationships!  We dined on yak curry (which actually gave me really bad food poisoning), and laughed into the early hours.
NAJET: Now, career-wise…Can I get a brief outline of you've been up to since the JET Programme?
Beth: I moved from JET to Tokyo to work on the 2002 FIFA World Cup Korea/Japan, where I was responsible for the accommodation for all the teams playing in Japan. After the World Cup I went around the world as an interpreter on PeaceBoat, then went to Libya to work on their bid for the 2010 FIFA World Cup.  That was an experience indeed!  I then did my MA Interpreting & Translating (Japanese) at the University of Bath, and went to work for the United Nations Children's Fund (UNICEF) for five years.  I specialised in relationships with the world of sport, working closely with sports stars and celebrities, including Manchester United FC, and around events like the Olympic Games and FIFA World Cup, and later specialising in corporate social responsibility.  I travelled extensively in the developing world during my time at UNICEF, and learnt much about the human race along the way.  In my last two years I developed the London 2012 international legacy project International Inspiration, which aims to give 12 million children in 20 countries around the world access to sport, by the time the Games open in London in 2012.  I left UNICEF to work on the England 2018 FIFA World Cup bid, where I was responsible for developing our global legacy plans, had we won the right to host the tournament.
Along the way I kept up my Japanese working as an interpreter at many major world sports events for Team GB or Team Japan – Winter Olympics, World Games, World Athletics, World Swimming Championships and many others.
During the last year many things have conspired to make me set up a completely new venture, to give people the tools and inspiration to do what they love, for life.  This includes an e-course, and a unique art retreat which combines creativity, enterprise and community, to help participants start or grow their creative businesses.
NAJET: What is 'Do What You Love'? Can we get a quick introduction to your philosophy?
Beth: This is the Do What You Love philosophy:
We believe the world would be a better place if more people were doing what they love,
Because life is more interesting when we open our hearts and minds,
Because we are happier when we discover our passion,
Because magic happens when we follow our dreams.
This is why we want to inspire more people to do what they love, for life
(More info at www.dowhatyouloveforlife.com)
NAJET: Can you tell me a little bit about the retreat that you attended that inspired you to start your own course?
Beth: I wrote a blog post about it straight after here: http://dowhatyouloveforlife.com/blog/2010/02/27/ tribal–gathering/
And one about how this led me to creating my business here: http://dowhatyouloveforlife.com/blog/
2010/11/25/finally-announcing-my-new-business-venture/
NAJET: What kind of difficulties did you come across when starting your own business? And how have you dealt with them so far?
Beth: This is my second business (I also have a consulting company) so this time round the practicalities of setting it up etc went really smoothly. The main challenge was in my head – although my market research had told me that there was a need for a retreat like the one I have put together, but the response was phenomenal. I have been overwhelmed with kind words from friends, and from complete strangers on the other side of the world, from people saying how inspired they are, and how this was just what they were looking for. I wrote a gratitude post about it here: http://dowhatyouloveforlife.com/blog/2011/01/18/gratitude/
Since then it has continued to grow, with over 20,000 web views in the month since the website was launched, and over 4000 views of the retreat brochure. (NB the posts up to December 2010 were imported from my old blog)
NAJET: I think most JETs who'll be looking for a job soon want to do something they love (obviously), but it's not always so easy to even identify what that is. Did you always know what it is that you wanted to do? Or was it a process?
Beth: I think it's less a question of 'what' (which tends to put jobs into boxes and makes it harder to think creatively about your path), and more a question of 'how' – How do you want to spend your time? How do you want to feel at the start of the working week? How do you want to pay for the things that will make you happy (money is not the only way of getting things, and this can be a revelation for many people). For me it has been about being curious, being interested, and following my natural instinct to seek out adventure – new people, new places, new experiences. If I look back over my career to date it is all interlinked, but it didn't necessary feel that way at every stage of the journey.
NAJET: More specifically about the e-course, what can JETs expect if they enroll?
Beth: The e-course is a unique opportunity to spend six weeks expanding your comfort zone, nurturing your playful spirit and feeding your creative soul (whether or not you think you have one!). It provides you with inspiration (in the form of posts, stories and interviews with awesome people doing what they love), and with tools (in the form of writing exercises, thinking exercises and visual exercises).
If participating JETs throw themselves into it, by the end they can expect to have a much clearer view of the life they want to lead – where they make the most of the skills they have and indulge
their passions every day. Ultimately this will even be helpful when starting out with job interviews or changing careers, as you will be able to clearly articulate why you want to follow the path you have chosen. There is also an important community side to the course, where participants interact with each other and support each other's plans and dreams – hopefully beyond the course itself.
NAJET: What type of person will most benefit from this e-course?
Beth: Anyone who feels like they want to make a change in their life – whether that is a change of job, setting up a new business, moving to a new country (or back to their home country) – but does not quite know what that change looks like, or how to go about it. There is more info on the course here: www.dowhatyouloveforlife.com/e-course/
NAJET: How do you sign-up?
Beth: Register here: www.dowhatyouloveforlife.com/ecourse-spring2011/ Use discount code J1102 to secure your place at the special JET price of £39 instead of £69. (For the cost of a night at a karaoke bar, you might just work out where you want your life to take you!)
NAJET: Finally, any last advice for current JETs?
Beth: Learn Japanese even if you can't see why it will be useful to you in the future. Make the most of every minute, say yes to every opportunity that comes your way, talk to as many people as possible, and travel as far and wide as you can while you are there. And while you have the luxury of time to think about the next step on your life's journey, use it. Dream big!
---