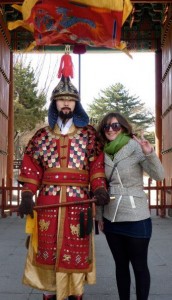 Former-JET, Maddy Rodell, studied East-Asian studies at university before moving to Toyama prefecture for two years as an ALT. She is currently putting her Japan experience to good use back in the U.K. as a travel consultant at InsideJapan Tours. She is "really happy to be in a job where I can still be learning about Japan, speaking Japanese and helping people to go to one of my favourite countries in the world." Maddy gives you a little peek into her experience as a JET and life working in the travel industry in this month's Life After JET.
NAJET: How did you get into the tourism industry? Did you always want to do that? Was it an accident?
Maddy: It was a very happy accident! On my return to England, I knew that I wanted to keep up my relationship with Japan in whatever capacity I could; I still wanted to speak the language, learn about the country and culture, and tell everyone who will listen what a great country it is! I searched for jobs on the JETAA UK site and saw an advert for this job. Although I hadn't previously thought about working in the travel industry, as soon as I read the description I knew it was the right job for me.

NAJET: How did your experience on JET prepare you for your current job?
Maddy: There are three main experiences of my time on JET that help me in my job now. When I was in my second year on JET I was the excursions rep for Toyama AJET. I ran trips for JETs and their friends up Mount Fuji, to Kyoto, snowboarding in Hakuba and to the sumo in Osaka. This experience was invaluable for my job now, in terms of researching hotels, making bookings in Japanese, and knowing how to get around in Japan. Secondly, when my parents came to visit me in Japan, I designed a trip for them to travel in Japan for three weeks and through this I learnt a lot about other peoples' style of travelling . Most importantly, I travelled as much as I could when I was in Japan and I draw on my knowledge of the places I have been to every single day.
NAJET: How did you know it was time to leave JET after two years? A lot of people struggle with the decision, and I was just curious about your process was like.
Maddy: I did indeed find leaving Japan and JET a very difficult decision, more so than I ever imagined. Even though I always thought I would be in Japan for 2 years, when it came to signing and submitting the form it was a hard thing to do.
In my second year in Japan I was the AJET excursions rep and assistant production manager for the Toyama Charity Show. I felt that I had gained all the experience I wanted to in Japan in terms of my career progression and that the next step in my career would be best achieved back in England.
NAJET: Do you have any advice for current JETs who want to work in tourism post-JET?
Maddy: Travel as much as possible as to as many different places as possible. Design trips for anyone who comes to visit, or for your friends in Japan.
NAJET: What exactly do you do as a travel consultant? What are some things that you'd work on during an average day?
Maddy: My day begins by picking up emails from Tetsuko in our Japan office. We have 5 members of staff in Nagoya, and as well being on call 24 hours a day to help our clients when they are in Japan, they help us with our bookings. Tetsuko looks after my clients for me, and we send each other several emails a day about the bookings we are working on at the time. I'd be lost without her! The mornings are often spent calling hotels to make bookings (in Japanese of course!). In the afternoon I'll be working on proposals for clients. Many proposals are very similar to each other; the most popular trips we sell go to Tokyo, Hakone and Kyoto. The ones where people ask you to design a unique trip and let you recommend places to go are the most fun, although sadly I am yet to send anyone to Toyama! In a typical day I spend a lot of time on the phone, as people call up to ask us to create them a holiday or get back to me on a quote I have already sent. The best part of my job is when I speak to clients who and are really excited about going on a trip that I have created for them!
NAJET: Are there any exciting perks working at a tour company?
Maddy: All of the staff at InsideJapan have lived and worked in Japan, and as a recently returned JET, the main perk is being in an environment where people understand what it is like to live in Japan. We always say o-tsukare sama to each other at the end of the day! Another perk is definitely trips to Japan to brush up on our knowledge of destinations, hotels and InsideJapan's small group tours.
NAJET: Since you're the expert — What do JETs absolutely need to see/eat/do before leaving Japan?
Maddy: Again, travel as much as possible!
NAJET: Any last words of wisdom for current JET participants who are starting to think about what comes next?
Maddy: You can't start to plan early enough. The JETAA UK website has a fantastic job section which I used to apply for my current job in the February before I returned to the UK, and although they needed someone to start before I got home, the company contacted me when another position came up to start in September. I had a telephone interview when I was still in Asia (in Cambodia!) and was interviewed at the office in Bristol less than 48 hours after landing in the UK.
NAJET: How has your job changed since the Tohoku Tsunami?
Maddy: My job changed completely! On the morning of the earthquake we had to contact all our clients in Japan, and then all their next of kin. Happily, all our clients and colleagues were safe. The day after the earthquake was a Saturday and I was the only sales person in the office. When I arrived, there was a cameraman in the office getting footage for the news! The phone was ringing off the hook with from concerned clients. It was a really difficult time for me, as I had to remain professional whilst personally, my heart was breaking from seeing all the devastation in the country that I love. In the weeks that followed, we had to process hundreds of cancellations. I spend a lot of time getting to know each client and putting together their holiday and it was so sad to cancel all of the amazing trips I had planned. People's reaction was very much swayed by what the media were saying at the time and when I woke up every morning I would worry about what the news would have in store that day! We've had to reassure a lot of people that Japan is safe for travel. Its been emotionally draining, but the thing that keeps us going is that we want Japan to recover as soon as possible, and tourists will be a vital boost for the economy. Our customers who have come home since the earthquake have all said how pleased all the Japanese people are too see them.
---