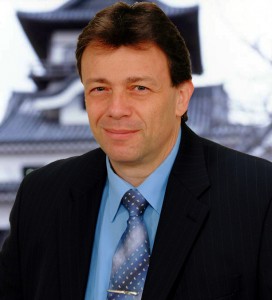 This month, Life After JET was pleased to interview Anthony Bianchi, a former JET who became the first American born elected official in Japan. Bianchi was voted into the city council of Inuyama City, Aichi Prefecture in April 2003, after becoming a naturalized Japanese citizen in 2002.
Mr. Bianchi was kind enough to offer us thoughts on his time on JET, and how he feels about the future of the Programme
1. Where are you from?
Brooklyn, New York
2. What year(s) were you a JET and where were you placed?
1989 – 91, Aichi Prefecture Compulsory Education Division
3. What have you done since your time on JET?
I worked for Kiyosu Town (which has since become Kiyosu City) for two years after JET. After that I returned to New York for a while. I started to work on a MA in ESL with the idea of returning to Japan.
During that period I also taught Japanese at LaGuardia High School for a year. I was working as the Academic Director at the ELS Language Center in Wagner College in NY when I decide to return to Japan.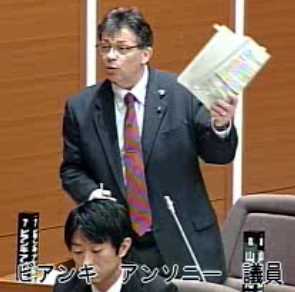 4. How did you go from being a JET to being a politician?
First let me give you a little background. In Inuyama I started a program based on my JET and supsequent experience. It is and is called the Native English Teacher (NET) Program. I started and ran it for seven years before leaving to run for office. The program continues to this day and has six teachers all directly employed by the city. The teachers here must have some ESL qualification. Currently, all teach their own classes based on original materials created by the group. The materials have been turned into a workbook. The participants here are pretty much accepted as regular teaching staff at their schools.
That was not always the case. That is where my journey into politics begins. There was quite a bit of resistance to what we were doing with the NET Program. At first I thought it was because our program was not part of the offical curriculum or because our qualifications were not recognized by the oficialdom, or of course because we were forigners.
In my contact with average citizens, I found that no matter what the area may be, they they also had similar dificulties in dealing with city hall. So our dificulties were not necessarily because of our quailfications or the status of our curriculum, or our being foriegn. There was a wall between the average person and city hall that had to be knocked down. It had to be knocked down for the sake of our students, and for the sake of everyone living in Inuyama.
I followed this realization with a number of years of complainig about a variety of things. I would lobby, the mayor, council people, city workers and the board of education alike. Then there just came a point were I got tired of complaining. That is when I decided to run for office. I thought that if the citizens agreed with what I was saying I would get elected. I could then deal with various problems from a different position.
5. What do you think the biggest change to the JET Program has been since you were a JET?
Because I am not in everyday contact with what is happening, it is difficult to say. That being the case, I would point out two changes that occur to me off hand. One is the increase in the numbers of participants and consequently cost. This has caused the program to come under greater scrutiny.
Anecdotally, I would say it seems the JET universe, and the society in general, has become more accustomed to the presence of foreigners. On the societal level this is due in part to the existence of JET. On a more up close and personal level, I understand that JETs are more integrated into the work place than before. For example, In my two years I never sat in the teachers' room. I was often left in an alone in a comfortable but empty room and let out only for classes.
6. What advice would you give to JETs in their first year on the Programme?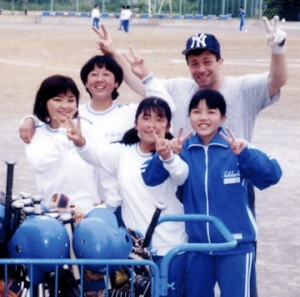 Enjoy Japan. Make an effort to learn the culture and language. Participate in local activities outside of your official duties. That is for yourself. More importantly, never forget that as an ALT you are here for the students. Prepare for your lessons as much as you can. Try to go with the flow at your schools. You may feel you don't agree with some things, but rest assured no one is consciously trying to put you in a difficult position. If you feel something needs to be changed, address it firmly, calmly and be as patient as possible. I'll end by saying it again, don't forget your greatest responsibility is to your students. If you take that responsibility seriously, you will be taken seriously and respected by those around you.
7. What do you think is the biggest challenge facing the programme, and how should we be combatting that?
I mentioned earlier that the program has come under greater scrutiny. That is due to mostly budget related reasons. This was most apparent during the "jigyo shiwake" hearings. To be honest, I don't think the program got proper considerations during its evaluation by the oversight committee.
Although I think JET could use some retooling and needs to redefine its goals, the program has great benefits for the country. One of the greatest, but overlooked is the former participants themselves. They all have a great knowledge, understanding and affection for Japan. All have gone on to various careers and are great but underutilized network.
---