JET Resources for Students
Student Exchange Programs
Do you have students who want to do an international exchange program? AJET has resources to help you!
Kizuna Across Cultures (KAC) is now accepting applications for GLOBAL CLASSMATES, a virtual cultural and language exchange program for high school students!
Move beyond the textbook and provide an opportunity for your students to practically learn English in a fun and exciting way!
Cofounded by several JET alums and their Japanese friends, KAC has connected nearly 5,000 high school students in Japan and the U.S. through their 6-month (Sept – Feb) virtual cultural and language exchange program, Global Classmates. Using both languages, students exchange messages, photos and videos on a secure and monitored Facebook-like platform. The program is free of charge and is supported by officials at the Ministry of Education and funded in part by the US Embassy, Tokyo.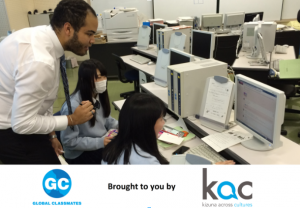 Applications for the 2017-18 Global Classmates program are being accepted until March 17th.
For an application, fill out this quick form https://goo.gl/forms/FZLu1PDces5Af6OH3. KAC will then send you an application and more information (in Japanese) that you can forward to your JTE. Ultimately JTEs must complete and submit the application.
Schools in Japan tend to need time to receive an "ok" from their administration to apply, so be sure to get in touch with KAC right away!
You can find more information on the organization and program at www.KACultures.org and at "Kizuna Across Cultures" on Facebook ("like" them to follow all the cool things they are doing!).
Tobitate (Japanese website only) is another exchange program supported by MEXT.