AJET Peer Support Group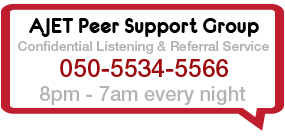 The AJET Peer Support Group (PSG), at 050-5534-5566 (or voice call (not IM) via Skype at AJETPSG), is a listening and referral service which operates on the principles of confidentiality and anonymity. We are open to all JET Programme participants every night of the year, from 8:00 pm to 7:00 am—a period when other services such as the Tokyo English Life Line (TELL) are not in service, and when Prefectural Advisors (PAs) are often unavailable.
Our service is free. However, if cell service fees apply, contact us via Skype. Callers will hear a short message in Japanese before connecting. Also, callers do not have to friend request on Skype. In fact, we recommend that users do not friend request us, in order to protect their privacy. Just search and call us.
Our volunteers are all current JET Programme participants. PSG does not provide professional or ongoing counselling, but will gladly provide resources in those situations. Whether you've had a bad day at work, need to see a doctor at 3:00 am or just want to speak English with someone, the volunteers at PSG are available to listen.
Want to become a PSG Volunteer?
Interested JETs may apply via the 'Become a Volunteer' page on our website: www.ajetpsg.com. For further inquiries, please contact our Volunteer Coordinator at .
For more information on counselling services for JETs, please check here.