Counselling
One of the greatest benefits of being in the JET Programme is having easy access to a very extensive counselling system. If you have a problem or just need someone to talk to, you've got lots of good options. Please refer to the flow chart for explanations of the different counselling options available to JET Programme participants.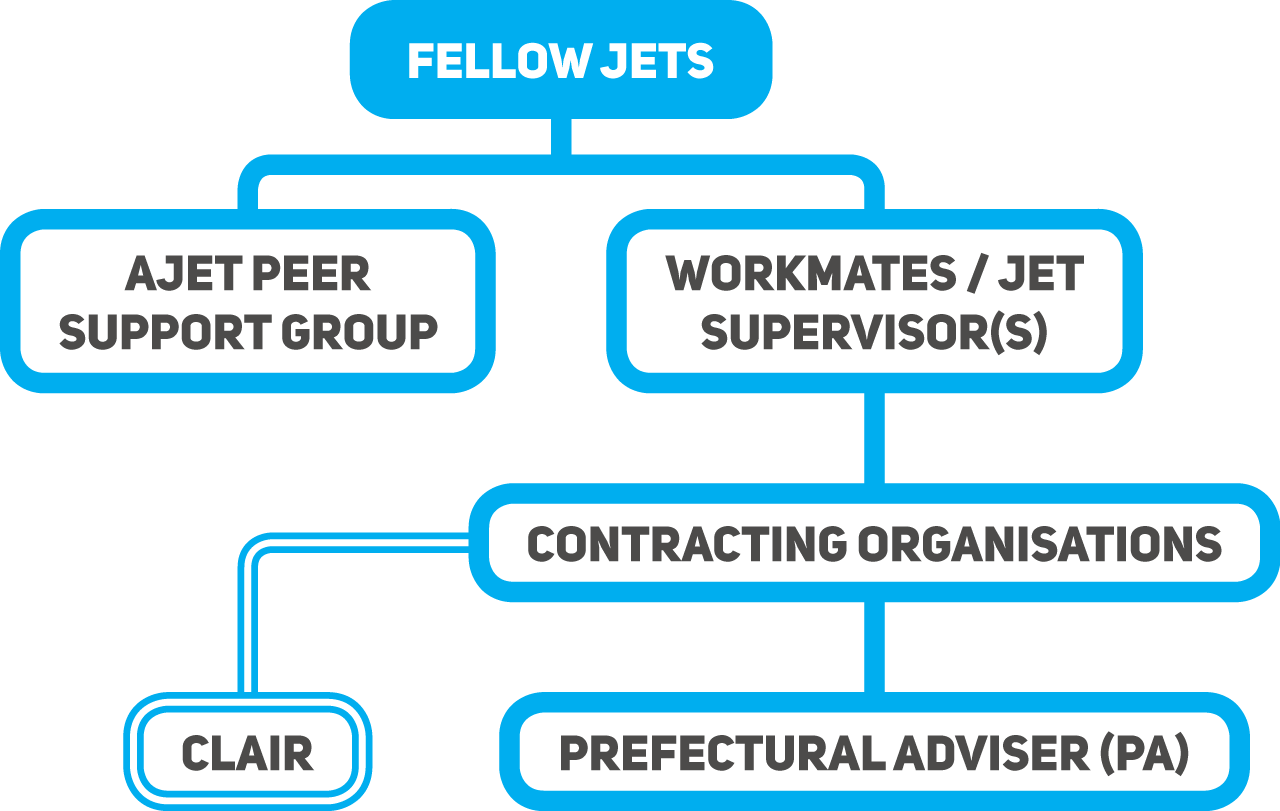 Fellow JETs
No one can understand what you are going through better than your JET peers. If you are experiencing stress due to culture shock, loneliness, work problems etc.., more than likely your peers have experienced it, too. Talk to your fellow JETs; they can be extremely helpful.
AJET Peer Support Group
You can contact AJET Peer Support Group (PSG) after working hours for a chat or advice from fellow JETs. PSG is a helpline run and staffed entirely by volunteers, all of whom are current JET Programme participants. Information given in calls made to the PSG helpline is kept strictly confidential. Keep in mind that PSG does not provide professional or ongoing counselling, but will gladly provide resources in those situations. Contact them at 050-5534-5566 or Skype "AJETPSG" from 8:00pm to 7:00am, 365 days a year.
Workmates/JET Supervisor(s)
Your Japanese coworkers and supervisor(s) are there to support you, so don't be afraid to open up to them. They can be a good support group for you if willing and a great resource for you. Talk to them if you need any assistance.
Contracting Organisations
If you are facing difficulties in Japan that you are unable to resolve on your own, inform your contracting organisation about the problem. We encourage you to build a trusting relationship with them from the start. They will know more about your employment and living situation better than anyone, so use them wisely to help solve any issues arising from these matters. Please find out who your supervisor is as soon as possible and obtain their emergency contact information.
Prefectural Adviser (PA)
If you can't talk to your supervisor or coworkers about the problem, contact your local PA. Certain ALTs, CIRs, and Japanese local government employees serve as Prefectural Advisers in each host prefecture/designated city. They provide support and counselling to JET participants and contracting organisations, as well as useful information to JET participants about everyday life in Japan. They are not professional counselors, but they attend conferences and workshops on how to provide support to JET participants. They are always available for counselling and support.
CLAIR
Please click here for information about support services (including those for mental health) offered by CLAIR.