Bicycle Registration
Bicycle registration is something you might not be used to back in your home country. After purchasing a bicycle, you are legally obligated to register your bike. The police can ask for proof of ownership at any time, thus it could cause problems if you fail to acquire proper registration for your bicycle.
Registration for a New Bike
The registration process is called 自転車 防犯登録 (jitensha bouhan touroku) in Japanese and usually costs around 500 yen. It can be done at the place where you purchased your bicycle. You will fill out a form listing things such as your address, phone number, registration number of your new purchase, etc. and the shop will forward that information on to the police for you. After the paperwork has been filled out, they will give you a registration sticker (think of this as a mini license plate) to place on your new bike.
If you purchase your bike online, you will need to fill out the registration form (see link below) and take it to your local police station for registration yourself. You will need to bring your receipt as proof of purchase with you as well.
Buying (or Receiving) a New Bike
If you buy a used bicycle, you will need to fill out two forms and take them to your local police station for registration. You will need to fill out a bicycle purchase form, and you will need the previous owner to fill out a bicycle transfer form.
Once your bicycle is registered in your name, you are legally responsible for its location even it is stolen. In the event that your bike ends up somewhere many kilometers away from your location due to theft, you are responsible for retrieving it. If you pass on your bike to your predecessor when you leave Japan without transferring ownership, you are still legally responsible for it as well.
Links:
Information and forms for new/used bicycle purchase (Japanese)
Information and forms for used bicycle transfer (Japanese)
Bicycle Laws
Bicycle laws in Japan may be different than what you're used to back home, especially if you come from a country where cars drive on the right side of the road. Bicycles in Japan are considered moving vehicles, and as such, follow many of the same laws governing the driving of a car.
The law has recently been changed stating that you must stick to the left when riding your bicycle on a road or highway-no exceptions. You can face a steep fine, or even imprisonment for failing to abide by this law.
Riding your bicycle under the influence
Japan has strict laws governing the operation of a moving vehicle after consuming alcohol. Japan as a zero tolerance policy when it comes to drinking and driving…even if "driving" a bicycle. If you drink and ride, you could be imprisoned or fined. Make plans to hire a taxi or catch a ride any time that you plan on consuming alcohol.
Bicycle lights
You must have a working headlight on your bicycle. When riding at night, you are required by law to activate your light so pedestrians and other vehicles are aware of your presence. Like other laws, failing to follow this one could cause you to be fined. You must also have a backlight or a reflector as well.
Bicycle Helmets
Only children under the age of thirteen are required to wear bicycle helmets.
Parking your bicycle
You will not be able to blindly leave your bicycle anywhere along the side of the road. You bicycle could be impounded and you will face a fine. Many businesses will have bicycle specific parking for you to leave your bike while you shop or eat. Bigger cities will have bicycle parking lots where you can pay a small fee to leave your bike while you sight-see or go shopping. Be smart and lock your bicycle up when you leave it, and bring all of your belongings with you.
Remember!
While you might see all three happening at once, talking on your phone, using headphones, or holding an umbrella is prohibited while on a bicycle. Think of riding your bicycle much like driving a car and you should have an enjoyable, fine-free time as you transport yourself to your adventures in Japan.
Bicycle signs
Here are some bicycle-specific traffic signs that you should familiarize yourself with if you are traveling by bike.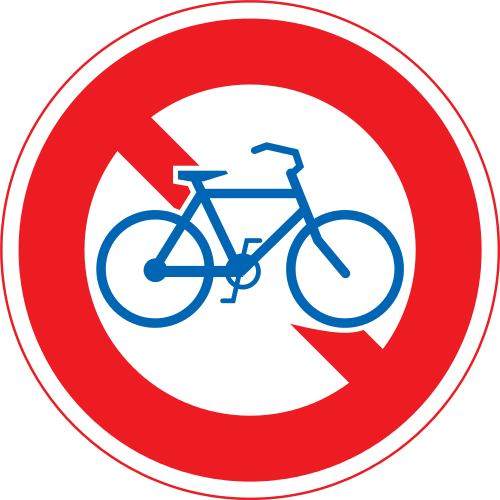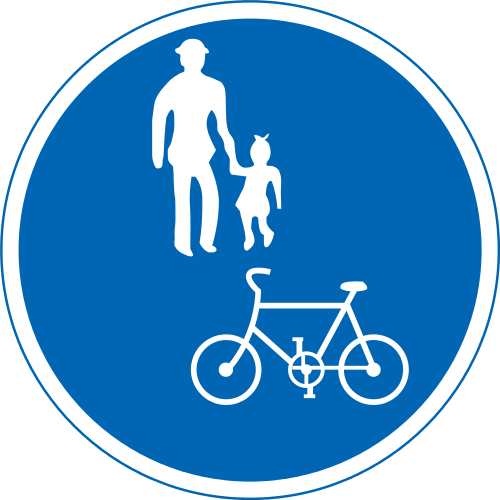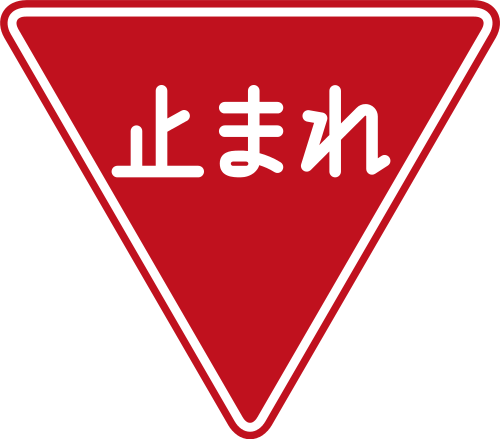 The red circular sign means that bicycles are forbidden from entering in a certain area. Normally bicycles are not allowed on sidewalks. However, the blue sign means that pedestrians and bicyclists are allowed to mix in a particular area. Treat stop signs on a bike just as you would when driving a car. For reference, the stop sign in Japan is triangular, and says 止まれ (tomare) which just means stop in Japanese.
Check out the Japan International Training Cooperation's leaflet on bicycle laws in Japan for even more info.