Japanese Language Courses & Reviews
If you have any suggestions, please send them to the Director of Professional and Education Development.
Wahaha is a Japanese language school located in Fukuoka City and offers various class levels. After completing a level check – a grammar test and interview – students are put into levels and counselled in their areas of development. The school is cosy and intimate with involved teachers and the small class sizes enable instructors to actively communicate with all students resulting in an interactive learning experience. Classes from Monday to Thursday focus on grammar, with Friday classes reserved for conversation based on 'real-life' situations. For those living outside of Japan the school can assist with study visas. Review: I attended the Wahaha Japanese Language School in Fukuoka City during Golden Week this year to prepare for the upcoming JLPT test. I have nothing but good things to say about this experience. It was my first time to attend a language school, and I felt right at home right away. The staff at Wahaha is all very professional and since they have placement exams, we were able to get the ball rolling at my level from day one. I was able to receive one-on-one support throughout my time at the school, and even received a nice JET discount. The teachers at Wahaha are all extremely patient, and truly want you to succeed, offering all kinds of advice on studying and practicing Japanese. The lessons were all very well planned and were driven at a pace that not only promoted a challenging and learner-friendly environment, but were very applicable to every day life in Japan. Even though I only had one week here, I felt like I learned and grew extensively in my studies of Japanese. I was provided practice tests for the JLPT, which has really boosted my confidence going into this next test. For anyone who is serious about studying and improving their Japanese, I highly recommend this school. You can find them on the web at: http://www.wahahanihongo.com/
Sapporo Nihongo Gakko (SIL) is a Japanese language school in the centre of Sapporo. They offer intensive Japanese study courses in late March, Golden Week, summer and winter. All levels of study are available and while most sessions run for one or two weeks, students can stay for multiple sessions in the summer. Since the school is relatively small, the average class number is 7 students. The teachers focus on communication in Japanese and balance textbook based work with general conversation practice. Some sessions include a field trip, BBQ, lunch party or speech contest and in the winter, there is an option to combine study with skiing or snowboarding. SIL can also arrange accommodation in a boarding house, weekly apartment or a home stay with a Japanese family. More information can be found at www.silnihongo.com Review: I spent a week at SIL in August 2011 and loved it. The pace and support of the teachers were great and I really noticed a difference in my Japanese after only one week. I loved the small, more personalised experience and having the free time available to explore Sapporo at the same time as studying. Vivienne, Kagoshima.
GenkiJACS was created by former Fukuoka JET participant, Evan Kirby, and is ever ready to help JETs further their Japanese study. The school offers a variety of course types such as standard and conversational Japanese, traditional and contemporary culture and language courses, and even a JLPT prep course. Each course has a weekly "core curriculum" of ten 50-minute grammar classes and 10 application classes where material learned is applied to relevant settings. While most courses are offered during the summer months (which aids JETs who are able to obtain special study leave from their COs), not all are. GenkiJACS includes group deals on tuition costs for prospective students going to study in the same course with the same start date – 10% off for 2 students, 15% for 3 students, and 20% for 4 people or more. The school also offers different housing accommodations including a private room with a Japanese family, a small private apartment in the center of the city, a weekly apartment (contracted through a private company) that is similar in quality to a hotel, and room-shares with Japanese university students. More information is available at the GenkiJACS homepage.

The Kyoto Institute of Culture and Language (KICL) offers a 4-week intensive Japanese language course every summer. They offer courses from Level 1 (beginner) to Level 5 (advanced) based on an individual's Japanese competency. Competency is determined by a placement test sent via email to the participant. The 2012 course begins on July 23rd and runs Monday-Friday from 9AM-12:30PM. Kyoto being the cultural capital of Japan that it is, students can sign up to participate in various cultural activities, from calligraphy to Japanese traditional dance to local sight-seeing, through KICL. Study leave might also be possible for this program – be sure to check with your contracting organization. Lodging is not included, but the institute offers to help locate accommodations for incoming students. More information can be found here.
The YAMASA Institute in Okazaki, Aichi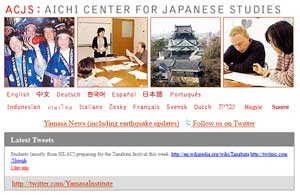 The YAMASA Institute provides intensive study courses year-round, is a great option for anyone who can afford at least two weeks off (perhaps via study leave) and would like to see another prefecture. YAMASA offers many intensive courses, but the course most applicable to JETs would be the Short Intensive Language Acquisition Course (SILAC) which starts on any Thursday and runs for a minimum of two weeks. Study is conversation and grammar-focused. SILAC runs Monday through Friday, with five hours of lessons on M-Th and three hours on Fridays. This is a great option for summer, with excellent teaching staff and available housing, including homestays. JETs receive a 10% discount on tuition, and returning students receive 20% off. More information on their website is available at http://www.yamasa.org/acjs/english/programs/silac.html. Review: I attended YAMASA's SILAC program in July/August 2010 and thoroughly enjoyed my time there. The pace was fast and the classes are always 15 students or less (often far less). I also found that for the money I spent getting there, staying in the dormitory, and studying was well worth it, and the most classroom time for my yen compared with other courses. They also have optional cultural classes (cooking, ikebana, etc.) for an extra cost. All office staff speak English for business matters (if needed) and many more of the staff are multilingual. I am planning on returning for another four weeks in 2011.Bryan D., Saitama
Coto Japanese Academy, Tokyo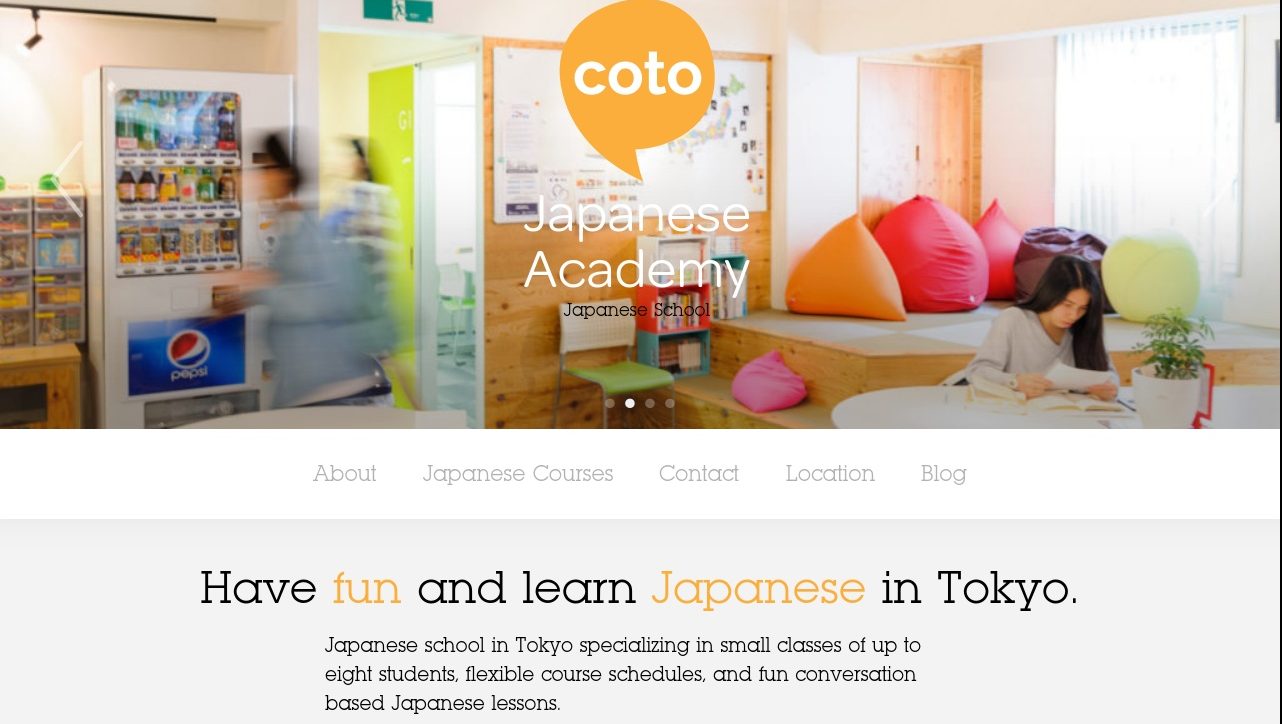 Coto Japanese Academy provides group, private, and intensive lessons for beginner through advanced. Teachers are energetic and friendly, and class times are very flexible. The location is also ideal for anyone living within an hour from Tokyo, as the school is directly above Iidabashi station on the Yurakucho Line, 10 minutes from Ikebukuro. More information is available at www.cotoacademy.com. Review: I have taken group, private, and intensive lessons when Coto Japanese Academy was called Iidabashi Nihongo Gakkou and felt that the fee was well worth it. The pace was fast, and the teachers were friendly and dedicated. They also provide monthly social events for students.Bryan D., Saitama
Yono Gakuin Japanese Language School, Saitama
Yono Gakuin caters to students of all Japanese levels.  They can accommodate those planning to study on a temporary 90 day visa or those who are already residing in Japan. In addition to Japanese language courses, Yono Gakuin also offer prepatory courses for those entering Graduate schools in Japan and the Japanese job market.  They also offer many cultural lessons outside of the regular course hours.Duration: 3-9months

Location: Saitama

For more information, please visit http://www.yono-gakuin.net/
Eurocentres Language School Kanazawa, Ishikawa
From a former JET,

"through Eurocentres I did a two-week program with a homestay, and since the classes sizes were small it was me and one other student in the advanced class. Aside from the group excursions to places around Kanazawa (tea ceremony, gold leaf chopstick-making experience, museums, sightseeing, etc), the best part was that it's an internationally accredited program so my BoE had no hesitations about the validity of the program. I also received a breakdown of my language skill levels at the end of my course in 6 areas, on the CEFR scale, which was useful as an alternate, non-JLPT assessment for future work.

For more information, please visit https://www.eurocentres.com/en/language-school-kanazawa
Long-Term Programs
Keio University Center for Japanese Studies
Keio's program offers a variety of study levels from beginner to high-advanced. The program allows for students to design a Japanese study course that best suits their need.  Students who already have a high level of Japanese will be prepared to enter into a variety of specific fields conducted primarily in Japanese.
Keio's program will prepare those with advanced Japanese abilities to enter into fields of study primarily conducted in Japanese. The program also includes elective subjects such as Japanese Cultural Studies and Japanese Social Studies
Duration: 1 year, including a Fall and Spring semester.
Location: Minato-ku, Tokyo and Yokohama
For more information including Tuition, Scholarships and application visit http://www.ic.keio.ac.jp/nncenter/
International Christian University Japanese Language Programs
ICU offers a variety of different programs including a summer intensive Japanese course, an intensive Japanese course offered in the school year, the standard Japanese course and a First/Heritage Language Japanese program designed to fit the needs of students who speak native Japanese but lack literacy skills.
Duration: Shortest program is for 6 weeks but can go up to 35 college credit hours.
Location: Tokyo
For more information please visit http://www.icu.ac.jp/en/liberalarts/collegewide/jlp.html